A few months ago I was driving home and while passing Kendall-Jackson winery I saw a sign for their Heirloom Tomato Weekend. I had seen the sign many times before and gave a passing thought to trying make an effort to go to the event. A week or two later I saw an article about the same festival in a nationally known culinary magazine. And I'll be honest, it pissed me off. I have lived 5 minutes from that festival for more than 10 years and never gone. Yet here is an article about how people from all over the nation make the trip to Sonoma county to sample the food and wine of amazing chefs and winemakers, and sample the apparently world class tomatoes my neck of the woods has to offer.
It got me to thinking. I work hard, I'm a good wife, I study hard in school, I'm a good friend, but what do I really do for me? Don't get me wrong, I have a darn good life, but there are so many things on my "that might be fun to try" list that never get done that it might be fun to take a class in bookbinding so I can keep track of all of them.
So I decided a week ago to take action. While perusing the incredibly biased local newspaper I saw an advertisement for a high tea and bookreading with author Karen Russell. I decided I was going, maybe.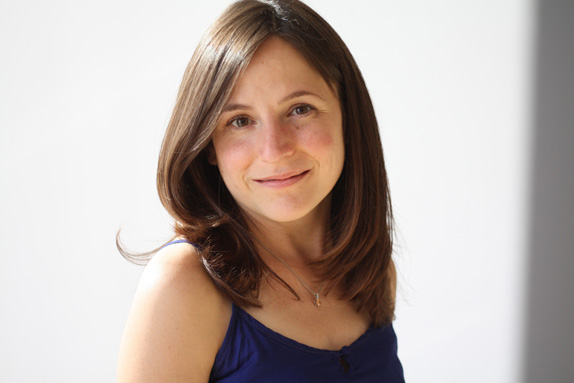 Author Karen Russell
Your probably thinking "She must really love the writing of this Karen Russell person", but no, because here's the kicker. I had no idea who Karen Russell was and I don't really read for pleasure, but the thought of high tea sounded good, so hey, why not?
Here's the story of me and reading. When I was younger my mother encouraged us to read all the time. I have fond memories of sitting on a stool at the end of the ironing board and reading to her while she ironed my father's shirts. As I got older however, I read less and less for pleasure. I remember reading The Pearl by John Steinbeck and collections of O'Henry and Edgar Allen Poe stories that my mother purchased for me which I really enjoyed. I also stumbled upon the work of Kamala Markandaya but it didn't take me long to read everything she had written. After those the only reading I did was required reading for high school and I was not enjoying the material.
A few years ago I took a humanities class and the required reading was The Jungle by Upton Sinclair. It was like I had fallen in love all over again. If you haven't read it, I'll tell you it's not for the faint of heart but it's an amazing story that kept me captivated. I think I finished it in a week, which is pretty impressive for a non-reader. After that I wasn't able to find anything that peaked my interest and once again I was in a reading wasteland.
Then last May, just before I was set to go on a cruise with my girlfriends, I realized I was going to have alot of time on my hands and I can only Zentangle 23 hours a day so much so maybe I should consider a book. It was the height of the Hunger Games rage so I picked up a copy at Costco and called it good. By the time I returned a week later, I had finished the book and was craving more.
So what's a girl who has read ONE book in 3 years to do? Buy a Kindle of course! I told myself that it would be convenient to take with me on the ambulance and it's ease of use would encourage me to read more. Lo and behold it worked. I read the two other Hunger Games books plus Wild: From Lost to Found on the Pacific Crest Trail by Cheryl Strayed on the recommendation of my friend Adrienne from The Rich Life (on a budget).
But I have always preferred short stories over full length books. I guess it's my impatient reading nature. So when I saw that the high tea with Ms. Russell featured her new book of short stories, Vampires in the Lemon Grove, I decided I was going, for sure. Oh wait, I have no idea what this women writes about so maybe I should figure that part out first. I got out my Kindle and ordered up Ms. Russell's first book of short stories, St. Lucy's Home for Girls Raised by Wolves and got to reading. It was a mix of fantasy, metaphor, alligator wrestling, and sisterly love and it was amazing! I only managed to read the first story but that didn't matter. I was going for sure. No
question!
So I called my trusty go anywhere, do anything friend Sudahlia, confirmed she was available, and bought some tickets.
The event was at the Hotel La Rose, a local landmark hotel and was hosted by Copperfield Books, a local independent book seller. The cost of the ticket included a copy of the book which Sudahlia and I both had signed by Ms. Russell who is a funny, bubbly, adorable personality. We were seated at our table with six other readers and then.......we fell down the rabbit hole.
I guess I just didn't know what to expect but these were people the likes of which I had not encountered before. I expected light talk about the book and tea sandwiches but what ensued was deep serious repartee about MA's, MFA's critiques, writing schedules, first person, third person, and comparisons to Faulkner. I was entranced, mystified and confused. Interestingly enough, the author seemed much more down to earth than any of the attendees. She visited each table and then read a few pages from the book. The ease and emotion with which she read made the reading my favorite part of the evening. She then accepted questions from the audience of about 30.
What struck me about the question/answer portion of the evening is that even though I am not well versed on the writing process, the passion with which she speaks of her writing is exactly how I feel about Zentangle. When she described how and when she becomes inspired I felt I knew exactly how she felt, as if the creative process surrounding writing and Zentangle is essentially the same thing even if the fundamentals differ.
Overall, it was a very enjoyable evening. I was proud of myself for stepping out of my box and making the effort to try something new. So excited in fact, that I have decided to try something that is New to Me each month. Stay tuned for my next adventure!
I would love to hear about your favorite books and author's.
Do you have any suggestions for something new for me to try?